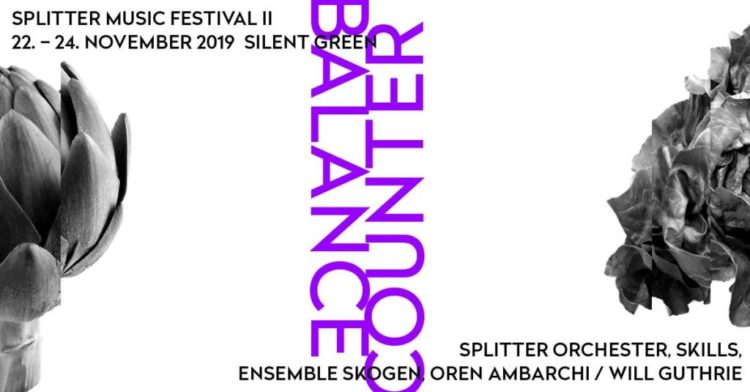 Enthusiasm
SKILLS for SPLITTER ORCHESTER — 2019
Concerts are work. Enthusiastically, SKILLS work for SPLITTER ORCHESTER. SPLITTER ORCHESTER enthusiastically works for SKILLS. The result is phantom power for a peculiar space. read on
Concerts are work. Enthusiastically, SKILLS work for SPLITTER ORCHESTER. SPLITTER ORCHESTER enthusiastically works for SKILLS. The result is phantom power for a peculiar space. At silent green's Betonhalle, a musical machine is kept in motion by the collective spirit of enthusiasm. Before silent green became a venue, a robot used to run on tracks through a library of dead bodies just where the installation is performed today. The robot arranged and moved the archived dead between forensics, mourning hall, crematorium. This is the place where the orchestra transforms into a factory, producing nothing but music.
The space invites us to reflect. What is it that we actually do? What is it that we do in our lives? What do we do? »Enthusiasm« is a musical reflection on the role of work in our lives, on excitement, on being driven and on being busy, on fordistic leftovers in our thoughts and bodies, on vanity and efficiency. Somewhere between routine and ritualistic ecstasy, instruments are being operated, something is being constructed. SKILLS and SPLITTER ORCHESTER develop a choreographed concert, unfolding a space of thinking for the ears in front of the audience's very eyes.
The title is derived from Dziga Vertov's movie »Enthusiasm: The Symphony of Donbass« (1930). The avant-garde editing of the factory scenes in the picture have been read as an early anticipation of techno music. We are excited about Vertov's musical approach to using documentary footage, we are fascinated by the celebrated creativity of the depicted working class collective. At the same time, the apparent propaganda and thorough ignorance towards the vulnerability and mortality of the human body in this film make us want to vomit.
Excerpts of »Enthusiasm: The Symphony of Donbass« by Dziga Vertov can be found here: https://vimeo.com/78435265
From 22 to 24 November, the Splitter Orchestra will present the second Splitter Music Festival. Under the title "Counterbalance!" new compositions, improvisations and performances can be experienced in large format. Click here for the Facebook event: https://www.facebook.com/events/472892383508419/ 
Program:
22.11.
7:30 p.m. | Betonhalle
Skills: ENTHUSIASM (2019, UA) for Splitter Orchestra
9 p.m. | Dome hall
Magnus Granberg: Let Pass My Weary Guiltless Ghost (2019, BE) for Skogen

23.11.
7:30 p.m. | Dome hall
Splitter Orchestra: Vortex
9 p.m. | Betonhalle
Oren Ambarchi & Will Guthrie

24.11.
4 – 8 p.m. | silent green
Splitter Orchestra, Skills, Skogen, Oren Ambarchi & Will Guthrie: Continuum / Big Circus

Ticketlink: https://splitter.loveyourartist.store/de/  or at Abendkasse Silent Green
Venue: silent green Kulturquartier, Gerichtstraße 35, 13347 Berlin
sponsored by the Capital Culture Fund | Media Partners: Deutschlandradio Kultur, digital in berlin, field notes, tip Berlin | Partner: Steinway & Sons, silent green